| | | | | |
| --- | --- | --- | --- | --- |
| [ | mood | | | crazy | ] |
From getting married, having my vacation in Vermont, to joining ravelry and X-mas in a retail job, I've been busy. I've been knitting like a crazy person, too. I can't stop, not since joining ravelry. There's always something beautiful to inspire me just around the corner. I've been struggling with knitting as a vegan, as I've learned that I have fair isle in my blood. As Elly will show you, it's hard to be a (cold) knitter with a problem with animal products.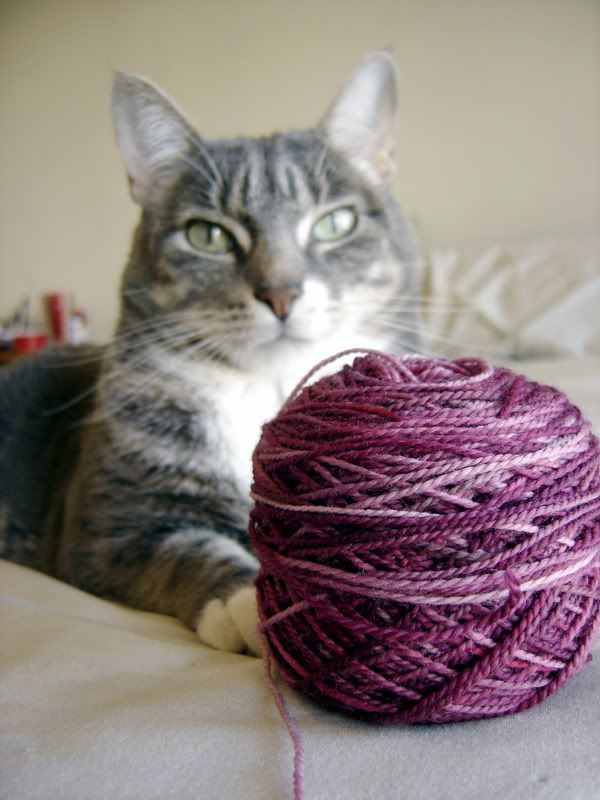 I'm far from giving up- I look at this as just the same struggle I had when I gave up milk, cheese and eggs (and etc.) It means I'm not quite the vegan knitter I thought I was, but I'm not giving up either. I can say safely that the year 2008 will see absolutely no purchases of any sheep, goat, alpaca, llama, anything. In fact, if I can manage it through next winter, maybe I'll even treat myself with some Alchemy, or some more Honeypot bamboo's. Very nice stuff. Plans for a spring/autumn bamboo tunic are already brewing in my head.

Aside from amazing traditional fair isle projects pulling me closer to non-veganism, so are socks. I feel like sock-making is marching through my veins like radioactive PANTS. Or... SOCKS. Radioactive SOCKS... I'm working on a pair right now for David, God willing he doesn't read this. They're for his birthday, so I can only knit them when he's not around... I've just barely gotten through a single toe, and I'm starting to worry. When I get to a simple part of the pattern, I'm going to start bringing them to work. I see late nights in my future... : (

There are lots of options for socks, and some rather wonderful attractive options, might I say, on etsy. However, I feel like I'm on pins and needles when it comes to cotton. It's one of the most harsh crops on the land, and is not always grown organically, or even traded fairly. I start weighing heavily whether damaging the land and the people involved is better than taking from animals, and I can't come up with an answer for myself. Crystal Palace also makes a corn sock yarn, but none of my LYS's carry it. I guess it's to the internets for me if I want that. If the process is even earth friendly, wich I can't find any information on that either. I mean, if the product requires so much machine processing, how much better than acrylic is it? I guess being that it isn't made directly from petroleum is a boost, but I'm sure you get my meaning. Sigh. You can't trust anything, can you?

Come to me, Blue Sky Alpaca, Organic color grown cotton... you are my best friend.